KVM produces two fully automatic types of palletizing, Speedline 140 or Robot solution. Both systems are characterized by short cycle time and high reliability. 
The KVM cubers are designed for very versatile use and can handle products from all types of block stone machines.
The combination of the powerful construction and the thoroughly tested hydraulic and electronic control system results in the very precise palletizer, which also has a minimum of maintenance needs. 
KVM also manufactures a manual cuber. This type is often used in smaller machines and productions.
KVM Cubing System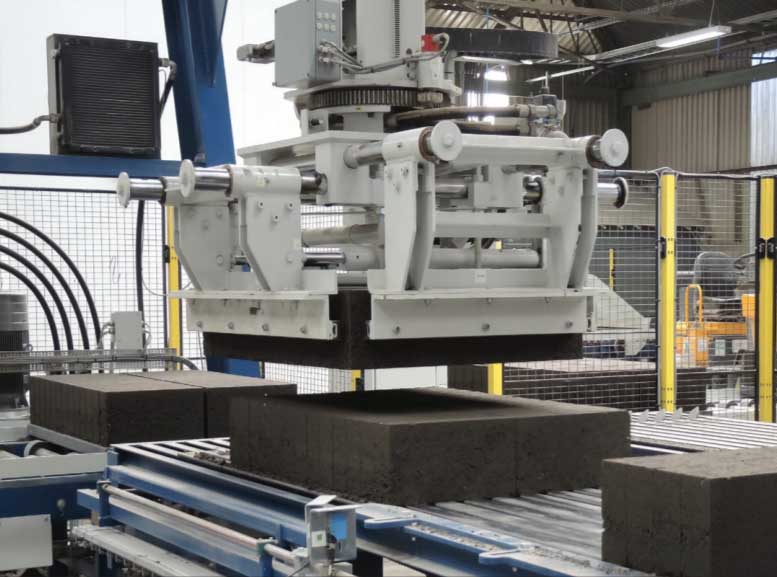 The cuber frame is manufactured from heavy rolled steel I sections giving the construction long life and stability. The heavy construction combined with well proven hydraulic and electronic control gives tough and precise cubers requiring a minimum of maintenance. The KVM designed cuber clamp will pick up any product from thin 25mm pavers to the largest blocks and kerbstones. An elevated service platform and access ladder makes for safe and easy inspection and service of cubers. The all movements are PLC controlled and can be adjusted from the control panel. 
The control system is based on PLC with an operator terminal for operator communication and is integrated into the blockplant control system. An Internet connection enables remote service from KVM service center 24 hours 7 days a week. 
Robot Cubing Systems