Bitumen – PMB and emulsion tanks
Bitumen – PMB and emulsion tanks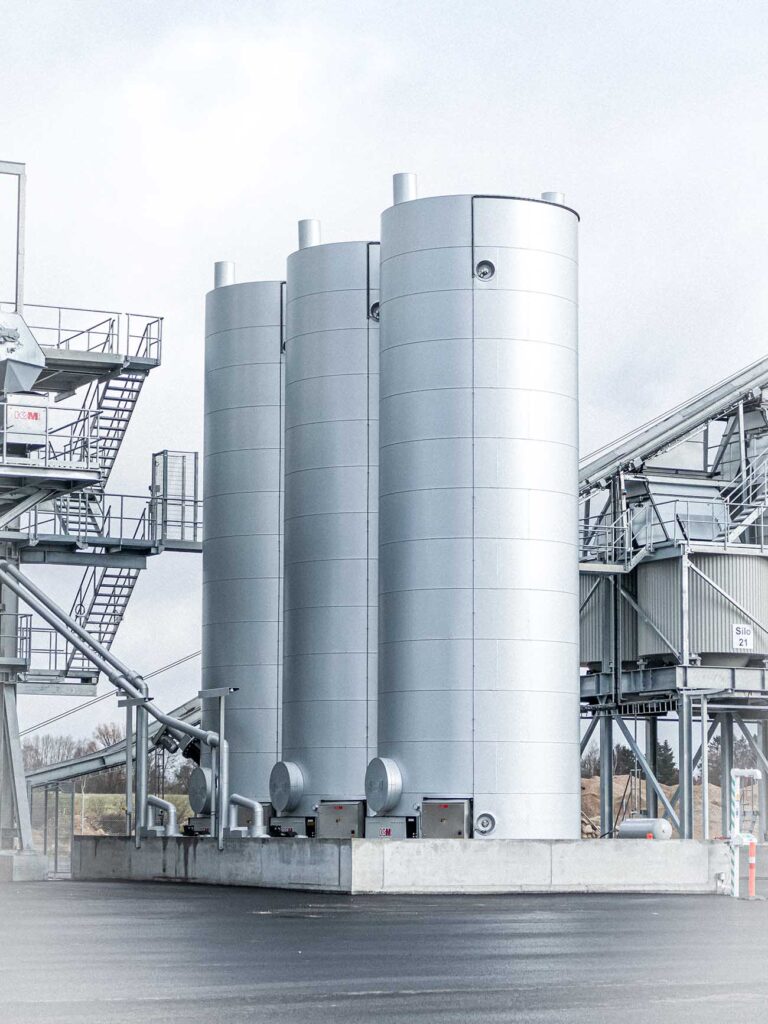 Stationary round bitumen tanks in horizontal or vertical design from 50-135 m3. Or 85 m3 horizontal movable tank with integrated pump for filling and dosing.
The tanks are as standard with 300/200 mm insulation cladded with Aluzinc plate.
Bitumentankene er opvarmet af elektriske varmelegemer, som er monteret under tankens bund. Varmen overvåges og styres automatisk af et 2-trins effekt optimeret styringssystem, som er monteret i et rustfrit stålskab ved tanken. Tanken er designet i henhold til de europæiske sikkerhedsstandarder. Doseringspumper for både 1-strengs og 2-strengs systemer tilbydes efter gældende regler og kundeønsker.
Dosing pumps for both one- or two-string pipe systems are adapted to the individual task as well as bitumen filling pumps for safe filling from the tank truck including control, electric heated and insulated pipe systems.
Environment friendly – superior heating and insulation
Large heat transfer area to the bitumen using the full tank bottom area
Parallel electrical coupling for high energy to the melt bitumen
Heating power – electric serial coupling for maintaining the temperature
Modular design
300 mm insulation fixed without radial holders
EN 1090 EXC 2
Meets Euro bitumen safety standards
Possibility for large volume tanks
Empty via bottom or via side flange
Udvendig beklædning med glatte alu-zink plader reducerer overfladeafkøling i forhold til profilplader
Prefabricated modular piping system, supplied in modules finished with heating and insulation